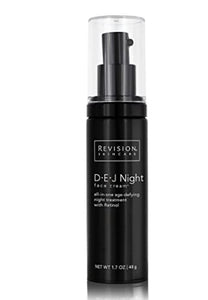 D·E·J Face Cream® is a moisturizer inspired by the Dermal-Epidermal Junction (DEJ) which is a critical factor in skin aging. D-E-J Face Cream® is an advanced skin-renewing moisturizer that firms, lifts and smooths the skin utilizing a comprehensive, one-of-a-kind formula to deliver clinically-proven results.
Visibly reduces fine lines and wrinkles and improves skin texture and radiance.
Visibly firms and plumps sagging, thinning skin.
Visibly improves overall photodamage and helps to shields against environmental stressors.
Clinically-proven to improve the skin's natural moisture barrier.
Helps skin maintain a healthy, skin-neutral pH level between 4.5 and 5.5.
Clinically-proven to be Microbiome-friendly.
0.5 oz / 14 g with pump
Significant average improvement after 12 weeks:
26% average improvement in radiance/luminosity*

24% average improvement in the appearance of forehead fine lines*

21% average improvement in tactile roughness and smoothness*
*12-week clinical study. Data on file. Results may vary.
Who Benefits? All Skin Types.